Handmade Platinum Ring with Orange Sapphire and Diamonds 4.86 CT by Simon Gorgin
A man calls my mobile…"Help Simon its her 40th what shall I do"….. A few questions later and we have established it needs to be a ring, bold colours, BIG, sapphire is the birthstone. That's a good start. I choose a collection of different shape and colour sapphires. Pink, blue, green, yellow, purple and mandarin orange in round,square,cushion, heart shape and oval. Then a similar selection of paired diamonds to go either side.
He needs to visit the shop to work through the choices with me. We discuss hair colour, skin tone and her general colour scheme in clothes. She has dark hair and favours autumnal colours. We narrow it down to orange, purple and yellow. I then lay out all the diamond pairs in "blu tac"and we move each stone between the choices.

She doesn't like hearts, the rounds are too normal, the trilliants are too pointed, all these criticisms are good because they narrow the choice. Its the princess cuts (squares) or the emerald cuts. The princess cuts are bright and "blingy", I prefer lustrous, but the emerald cuts provide a contrast to the cut of the orange sapphire, they are classy and in my opinion sublime. They are the choice of a discerning lady!!!
Now the last part of the equation….making the ring. Whilst choosing the stones we have discussed designs and styles of rings however with these big stones the ring is all about making the setting almost disappear. A classic style is decided and the rest of the process is down to me. He trust my workmanship and is happy to leave the final decision to me………. I even guessed the size right…. A very happy customer and very happy wife!!
View the full Simon Gorgin Handmade Jewellery Portfolio
< Click and Move on Image to Zoom >
The Finished Ring
Stones and Metal
Stones and Bezels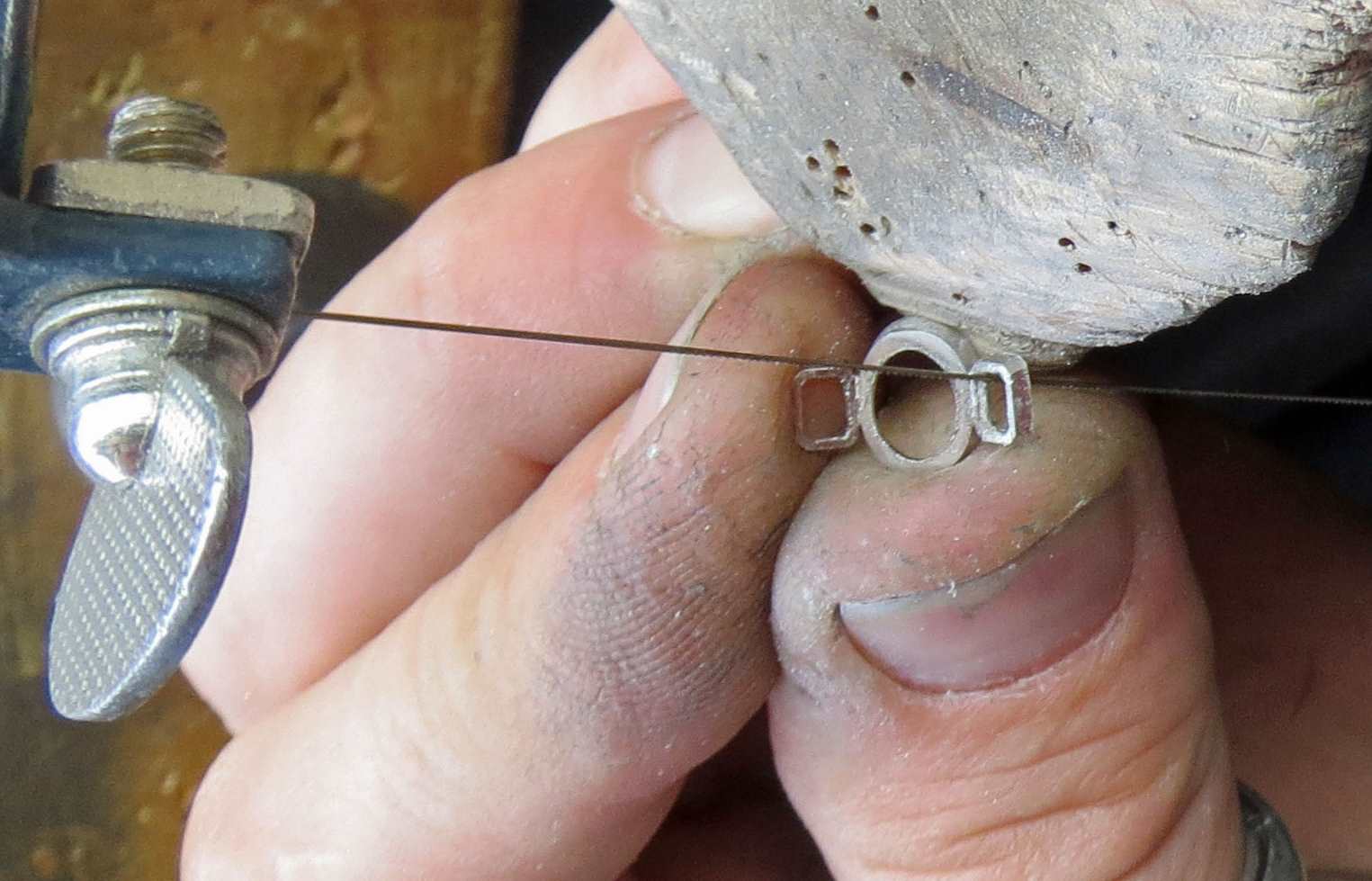 Metal for Band with Bezels and Stones
Soldering Shank
Bezels and Shank
Bezels and Shank Joined with bottom Gallery
Claws on
Ready to be Set
The Finished Ring – Side View